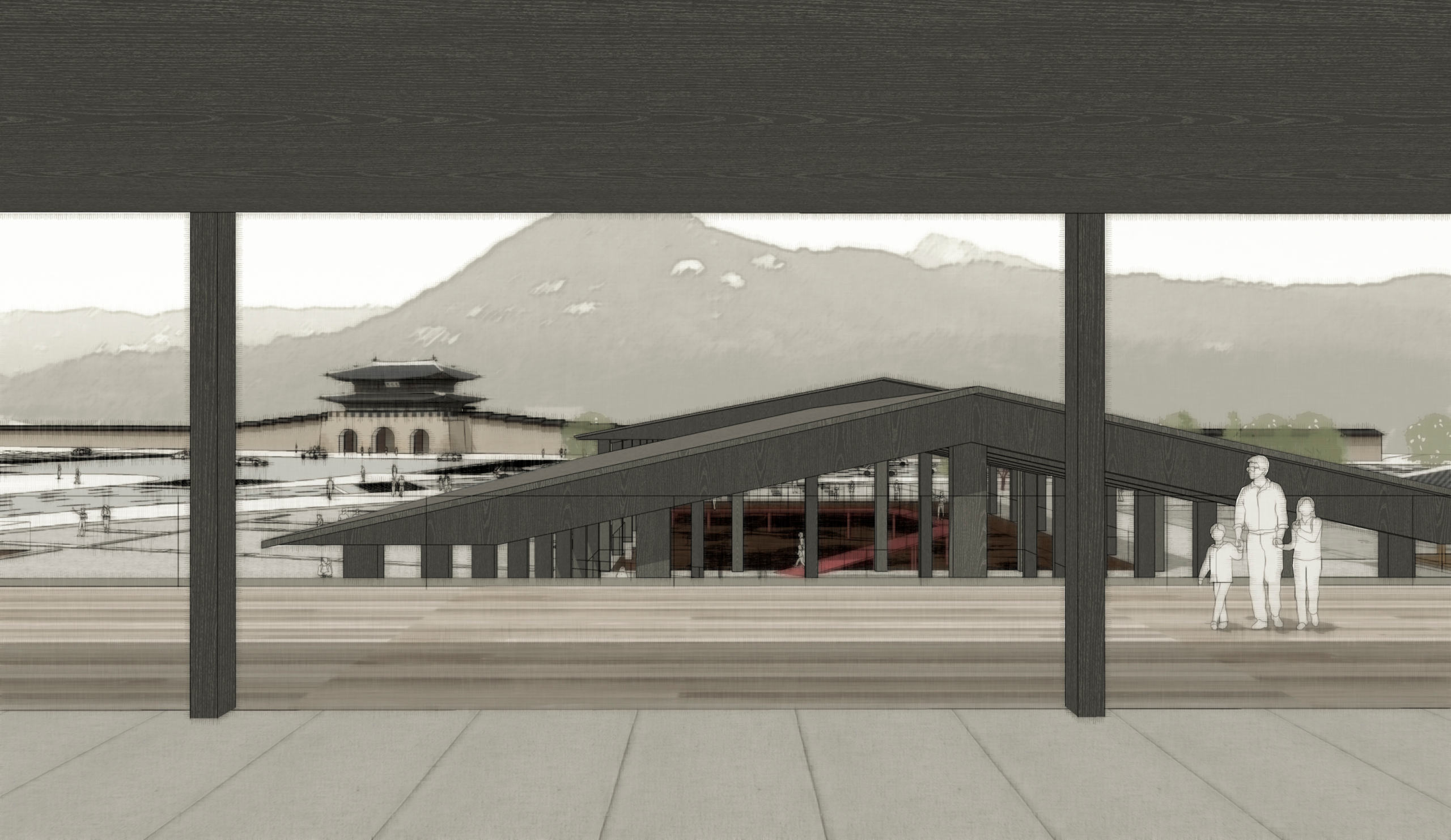 Project Title
Uijeongbu Historical site Protection Facility
Location
Sejong-ro, Jongno-gu, Seoul, Korea
Note
풍경 #0 - 기억의 층위
이 곳은 조선시대의 정치적 중심지를 거쳐, 일제강점기의 경기도청, 그리고 현재 시민의 광장에 까지 이르러 온 역사적 장소이다. 장소는 시간을 통과해 기억의 흔적을 남겼다. 우리는 어떻게 날것 그대로의 역사적 층위를 보여줄 것인가?

풍경 #1 - 은유적 추상화
유구를 보호하기 위한 기능적 형태를 따르며, 과거 의정부 건축의 은유를 통해 추상적 형태를 만든다. 이는 과거 공간의 은유이며, 추상화된 건축이다. 과거의 마당은 지금 시민을 위한 장소이자, 회상의 시발점이 된다.

풍경 #2 - 기억과 회상의 공간
이 곳은 전시와 관람의 대상이 아닌, 기억과 회상의 대상이어야 한다. 내 외부를 관통하며 끊임없이 이어지는 길은 보존과 보호의 목적을 넘어 되새김의 대상이 된다. 우리는 과고를 바라만 보는 수동적인 자세에서 과거를 이해하고 체득하는 존재가 된다.


Scene #0 - Layers of memories
This place has been a political center since Joseon Dynasty, and is a space where various historical traces remain intact. The place has left a trace of memory over time. How could we present the the historical layer as it is?

Scene #1 - Metaphorical abstraction
Following the functional form to protect the remains, creates an abstract form through the metaphor of the Uijeongbu architecture in the past This is a metaphor for the past space, and it is also an abstracted architecture. The front-yard of the past time will be a place for the citizen of present time and a starting point for remembrance.

Scene #2 - A place for memory and remembrance
This place should not be regarded as an objet for exhibition but a place of memory and remembrance. The passage that runs through the interior and exterior continually becomes a place for remembrance. Eventually we are reborn as beings who understand the past and learn from the past.